As a young boy visiting family in London some 35 years ago, the only mode of transportation we had was either public transportation or the bicycle. Being as it was summertime, my uncle opted for bicycles to see the sites around the city. We rode everywhere. Through the city center, along the rivers, in and out of town; as a kid it felt like we rode a thousand miles. In reality it was far from a thousand miles, but it was the beginning of a beautiful relationship.
As a sport, a lifestyle, a career, and an avenue to step away from the everyday stressors and doldrums, my love for cycling was forged that summer and has become a predominant part of my life.
Haley was born this past summer of 2017. Our desire is to have a brand that represents the best of what we've been fortunate to experience in cycling: to be built in the USA; to be welded out of the best Titanium; to be artisan; and most importantly, to be fun.
I don't race anymore, but at the end of the day, I want my bike to be able to provide everything from exhilaration to speed to zippiness, as well as stability, confidence, and comfort.
We ride not to race necessarily, but we ride for the pure enjoyment of being outside.
Titanium has long been regarded as the "forever bike" material — extremely durable, yet lightweight, stiff, and strong. It's got all the right buzzwords.
But in a cycling world dominated by carbon, our opinion is that Titanium can provide as good a ride if not better, plus have the longevity and durability that can't be guaranteed by carbon.
There's something truly lustworthy about a well built Ti frame.
The Haley Race Disc represents a bike that just makes sense.
It's a frame that we want to ride: a road race geometry to make it fast and fun; an oversized Ti tubeset to make it feel right under power and torque; the industry standard Enve Carbon road fork for the best front end ride quality and integrity; quiet and clean internal routing; flat mount disc brakes; and room for 32's for the best combination of grip, comfort, and speed.
Essentially it's no nonsense, yet with the ideal blend of details to make the bike a pure blast to race or ride.
We weld all of our frames here in the USA. We offer five stock geometry sizes and two finish options, including a raw Ti finish with the raw carbon Enve fork, and a full paint option in the color of your choice with a painted to match fork. Further customizable options are available — all you need to do is ask and we'll see if we can do it!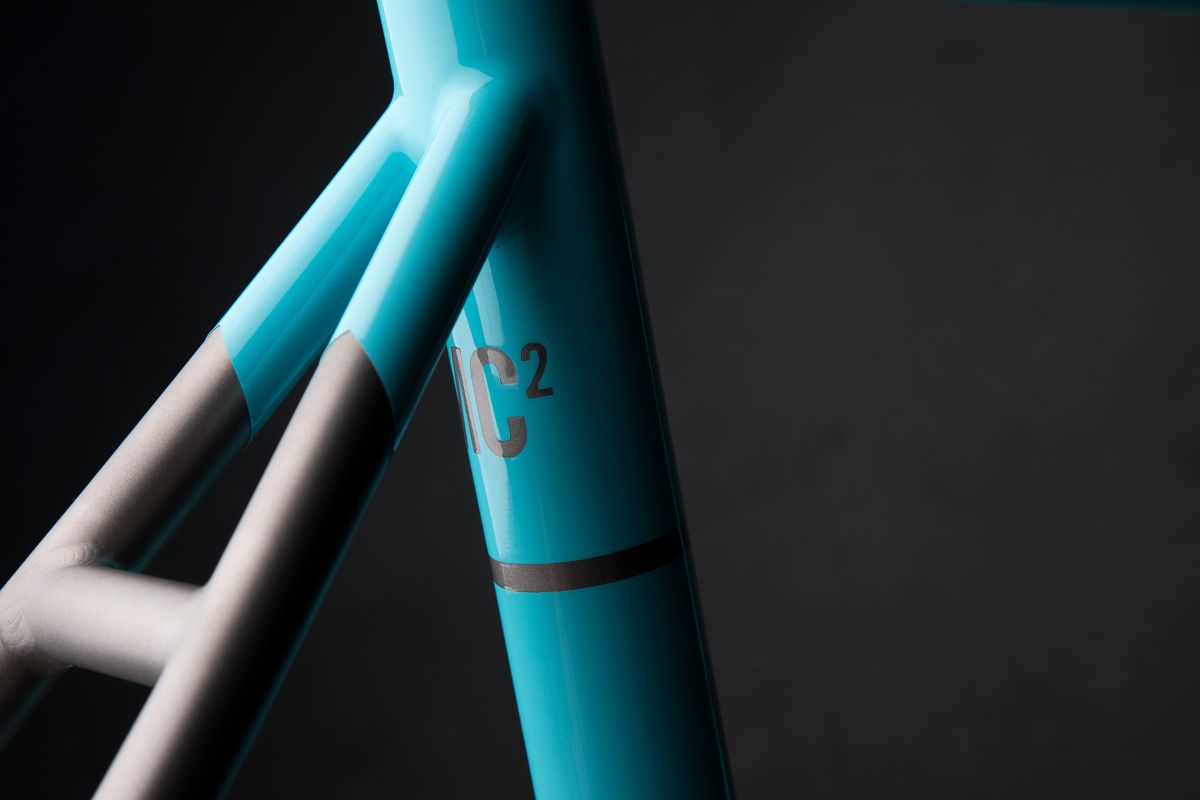 US built Ti with an oversized tube set. Keeps the frame laterally and torsionally stiff for excellent feedback, straight line efficiency, and cornering precision.
Dropped and curved stays — allows for some bump compliance and the room for wider tire options. The bikes we've built have been running 32c Continental GP tires that actually measure 33.5c.
Externally machined 44mm straight head tubes — allows for different tapered forks to be used, along with Chris King Inset headsets.
Enve Road Disc Fork — comes with the frameset; 43mm rake, 1-1/4" to 1-1/8" tapered, with the new Mavic Speed Release (12mm thru axle with a quick release mechanism)
Mechanical or electronic routing — your choice. Electronic is fully internally routed, and mechanical is external.
T-47 bottom bracket shell — this oversized option allows you to use a threaded bottom bracket for either 24mm or 30mm cranks. We've found this to be superior to any other threaded or press fit option. The oversized shell also allows for keeping electronic wiring internal.
Internally routed brake lines — our internal routing is also "tubed" meaning that you can push the hose through the frame without having to fish for it.
Rear 12mm thru axle — comes with a DT Swiss or Shimano thru axle.
Flat mount disc mounts.
| | 51 | 53 | 55 | 57 | 59 |
| --- | --- | --- | --- | --- | --- |
| Seat Tube (c-t) (A) | 48.5 | 51.5 | 54.0 | 56.5 | 58.5 |
| Top Tube (virtual) (B) | 52.8 | 54.5 | 56.5 | 58.1 | 59.5 |
| Seat Angle (C) | 74.5º | 74.0º | 73.5º | 73.5º | 73.0º |
| Head Angle (D) | 72.0º | 73.0º | 73.0º | 73.5º | 74.0º |
| Head Tube (E) | 120 | 135 | 146 | 159 | 180 |
| Reach (F) | 37.8 | 38.1 | 39.8 | 41.0 | 41.3 |
| Stack (G) | 53.4 | 55.1 | 56.1 | 57.6 | 59.8 |
| Drop (H) | 70.0 | 70.0 | 70.0 | 70.0 | 70.0 |
| Chainstay (I) | 41.5 | 41.5 | 41.5 | 41.5 | 41.5 |
| Standover (J) | 73.5 | 77.5 | 79.2 | 81.2 | 83.1 |
Race Disc Painted Ti
Full paint with masked logos and a painted to match fork, Mavic Speed Release front thru axle, Shimano or DT rear thru axle, and a Thomson seat clamp. Custom geometry available at no upcharge.
Communication is the key to a great relationship. Feel free to reach out if you have any questions whatsoever about us, our frames, options, and/or colors. Ask anything, and we'll try to answer.
Because we build everything here in the US, we have flexibility. And because everything is painted and finished here as well, we can paint your Haley in almost any color you want. We want your experience to be smooth, open, and most of all, easy.
We'll get back to you as fast as we can.